As a fashion enthusiast, I know that finding the perfect pair of sunglasses can instantly elevate your style.
That's why I am thrilled to unveil the hottest sunglasses trends for men in 2023.
From classic aviators to sleek and modern designs, this article will guide you on how to choose the most flattering shades for your face shape.
With a focus on quality and functionality, we'll also explore lens features and whether investing in brands like Ray-Ban and Oakley is worth it.
Get ready to discover how you can effortlessly style sunglasses for different occasions while staying within budget.
KEY TAKEAWAY
Trending sunglasses for men, what to know?
Stay updated on the latest sunglass trends for men (1) to ensure you're not only protected from the sun but also effortlessly stylish.
Knowing the trending sunglasses for men allows you to make a fashion statement while shielding your eyes from UV rays.
What are the top men's sunglasses trends for 2023?
What are the top men's sunglasses trends for 2023? As a fashion enthusiast, I can't help but keep up with the latest styles and collections.
When it comes to sunglasses, there are some exciting trends on the horizon.
One of the most prominent trends in men's sunglasses for 2023 is the use of metal frames.
Metal frames bring a modern and sleek look to any outfit.
Whether it's stainless steel or titanium, these frames add a touch of sophistication to your style.
Not only are they durable, but they also offer a lightweight feel that makes them comfortable to wear all day long.
Another trend that is gaining popularity is oversized sunglasses.
These larger frames not only provide ample protection from harmful UV rays but also make a bold fashion statement.
From aviator-inspired designs to geometric shapes, oversized sunglasses come in various styles that cater to different preferences.
In terms of lens colors, gradient lenses are making their mark as one of the top trends for 2023.
These lenses feature a subtle fade from dark at the top to lighter shades at the bottom.
This gradient effect adds depth and dimension to your overall look while providing excellent sun protection.
How to choose the most flattering sunglasses for your face shape
When it comes to selecting sunglasses that flatter your face shape, you should consider factors like the size and frame style.
The shape of your face plays a significant role in determining which sunglasses will suit you best. (2)
Different face shapes require different styles to enhance your features and create a balanced look.
For those with a round face shape, opt for sunglasses with angular frames to add definition and structure.
Square and rectangular frames work well by creating contrast against the curves of your face.
If you have an oval-shaped face, consider yourself lucky as most sunglasses styles will complement your features.
Experiment with bold shapes like aviators or wayfarers to make a statement.
If you have a heart-shaped face with wider cheekbones and a narrower jawline, go for sunglasses with bottom-heavy frames or rimless designs to balance out your proportions.
For square-shaped faces, round or oval frames soften sharp angles and add some curves to your overall look.
Remember that not only the shape but also the size of the lenses matters when choosing sunglasses.
Oversized lenses are trendy right now, but make sure they don't overwhelm your facial features.
Speaking of timeless looks for men, aviator sunglasses deserve special mention.
They have been popular since their introduction in the 1930s and continue to be a classic choice today.
But why are aviators such an enduring style? Let's find out in the next section…
Why are aviator sunglasses a timeless look for men?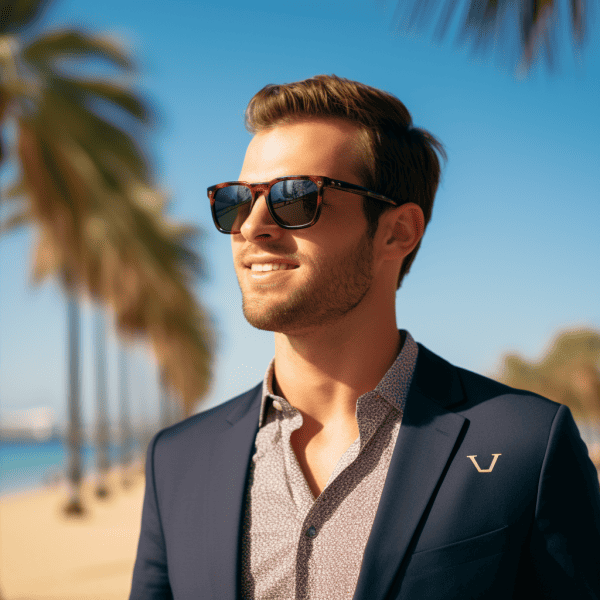 To understand why aviators have stood the test of time, you can explore their history and enduring appeal.
Aviator sunglasses have become a classic choice for men, known for their timeless look that never goes out of style.
These sunglasses were originally designed for pilots in the 1930s, with large lenses to provide maximum eye protection.
Today, they continue to be a stylish pair that adds a touch of sophistication to any outfit.
One of the reasons aviators have maintained their popularity is because they suit a wide range of face shapes.
The teardrop shape of the lenses complements both
angular and round faces, creating a balanced and flattering look.
Additionally, aviators are typically made with metal frames, which not only add durability but also lend an edgy and modern vibe.
In recent years, aviator sunglasses have remained on-trend as part of the larger sunglasses trends.
They've been seen on celebrities and influencers alike, further solidifying their place in the fashion world.
With various lens colors and frame finishes available, there's always an option to match your personal style.
What lens features should you look for in quality sunglasses
When searching for high-quality sunglasses, it's important to consider lens features such as UV protection, polarization, and scratch resistance.
These lens features not only enhance your vision but also protect your eyes from harmful UV rays.
Polarized lenses are a must-have for any stylish man.
They reduce glare and provide excellent clarity, making them perfect for outdoor activities like driving or spending a day at the beach.
Another popular lens feature to look out for is gradient lenses.
These lenses have a darker tint on the top and gradually become lighter towards the bottom.
Gradient lenses not only add a touch of sophistication to your overall look but also provide protection against bright sunlight without compromising your vision.
When it comes to frame styles, rectangular frames are making a comeback this season.
They offer a sleek and modern look that complements various face shapes.
Additionally, oversized sunglasses continue to dominate the fashion scene.
Not only do they make a bold statement, but they also provide maximum coverage for your eyes.
Are Ray-Ban and Oakley worth the investment for guys
If you're considering investing in high-quality sunglasses, Ray-Ban and Oakley are definitely worth the investment for guys.
These brands have been at the top of the
eyewear game for years, offering classic styles that never go out of fashion.
When it comes to high-end sunglasses, both Ray-Ban and Oakley deliver exceptional quality and design.
One iconic style from Ray-Ban is their rectangular frames.
These frames are sleek and sophisticated, adding a touch of elegance to any outfit.
The timeless design makes them perfect for any occasion, whether it's a casual day out or a formal event.
Plus, with their durable construction, these sunglasses will last you for years to come.
Oakley is another brand known for their high-quality sunglasses.
Their collection includes a range of stylish options with polarized lenses.
Polarized lenses reduce glare and enhance clarity, making them ideal for outdoor activities like driving or sports.
How can men style sunglasses for different occasions
As a guy, I know that finding the right pair of sunglasses can be just as important as picking out the perfect outfit.
Sunglasses not only protect your eyes from harmful UV rays but also add a touch of style to any look.
But how do you style sunglasses for different occasions? Let me break it down for you:
Casual Occasions:
A classic pair of aviator sunglasses can effortlessly elevate a casual outfit, whether it's jeans and a t-shirt or shorts and a polo.
If you're going for a sporty vibe, wraparound sunglasses with mirrored lenses are perfect for outdoor activities like hiking or running.
Formal Occasions:
Opt for sophisticated square-frame sunglasses to complement your tailored suit at weddings or formal events.
For black-tie affairs, consider wearing round-frame sunglasses with tinted lenses to add an air of mystery and elegance.
Now that you have some ideas on how to style your shades for different occasions, let's move on to where you can find affordable yet stylish sunglasses for men.
Where to find affordable yet stylish sunglasses for men
Once you've got an idea of how to rock your shades, let's talk about where you can find affordable yet stylish sunglasses for guys like you.
When it comes to finding the perfect pair of sunglasses, affordability and style are key factors.
Lucky for you, there are plenty of options out there that won't break the bank but still keep you looking trendy.
One great place to start your search is online.
Many websites offer a wide range of affordable sunglasses for men, with prices that won't leave your wallet empty.
These sites often have a vast collection of stylish sunglasses from various brands, allowing you to explore different styles and trends.
If online shopping isn't your thing, don't worry! You can also find affordable sunglasses at local stores or boutiques in your area.
These places often have sales or discounts on their sunglasses collection, making it easier for you to find a stylish pair without spending too much.
When it comes to choosing the right pair, keep an eye out for current sunglasses trends.
This season, oversized frames and mirrored lenses are all the rage.
Don't be afraid to experiment with different shapes and colors as well – aviators and wayfarers are timeless classics that never go out of style.
Conclusion
In conclusion, as I reflect on the unveiling of these trending sunglasses for men, I can't help but be captivated by the sheer style and sophistication they exude.
From sleek aviators to bold frames, these sunglasses are more than just accessories – they are statements of confidence and individuality.
Picture yourself donning a pair of high-quality shades that perfectly complement your face shape, enhancing your features with every glance.
Imagine the world through tinted lenses that not only protect your eyes but also elevate your overall look.
Don't miss out on this opportunity to invest in iconic brands like Ray-Ban and Oakley, known for their durability and timeless appeal.
Whether you're heading to a casual outing or a formal event, there's a pair of sunglasses waiting to complete your ensemble.
So go ahead, explore different styles and find the perfect pair that reflects your unique persona.
And remember, you don't have to break the bank to achieve effortless style – many affordable yet stylish options are available just a click away.
Embrace the power of trendy sunglasses and let them speak volumes about who you are.
References
https://time.com/shopping/article/best-sunglasses-for-men/
https://www.theessentialman.com/blog/sunglasses-for-face-shape
Related Articles