THE SUNGLASSES "FACE SHAPE" MYTH

Shopping for sunglasses is tricky enough in-person, nevermind shopping for them online. There's 1000 tips, tricks and charts desgined to help, but they usually make it even more complicated.
So today we're addressing some sunglasses myths and truths, so you can find your perfect pair of sunnies. 
THERE'S NO SINGLE "PERFECT SHAPE" FOR YOUR FACE
All those beautifully illustrated diagrams you've seen talking about square, round, and heart-shaped faces? The ones that promise to help you pick sunglasses for your face shape? 
B.S. 
The theory behind these guides say you need to a certain type of frame style to compliment your face shape.

E.g. "If you have a round face shape, don't wear round frames. They'll make your face look rounder."
These guides are arbitrary, outdated and just plain wrong. 
You don't need to make your face look slimmer, longer, or leaner. It's similar to the oudated way of thinking that states "don't wear horizontal stripes because it makes you look wide" or "don't wear white after labor day". 
It's BOGUS.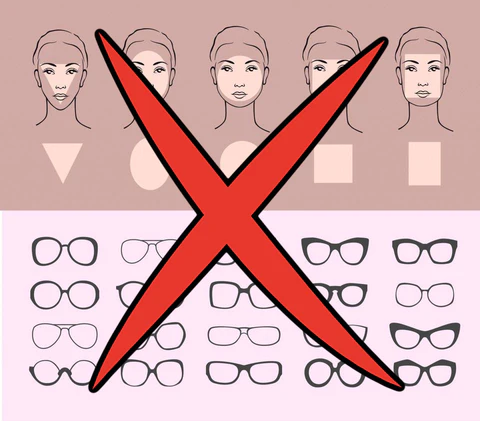 IT'S ALL ABOUT YOUR HEAD SIZE
Head size is different from face shape. Now we're talking about the width and length of you head, not whether your head is a heart or a pear shape.

Your head size determines the size your lenses need to be for sufficient sun protection. Everything around the lenses (frame style, color, shape, etc.) is secondary. 
GREAT, SO HOW DO FIND SUNGLASSES THAT WORK FOR ME? 
We recommend using the "Sweetspot Method" developed by Peter Nguyen of The Essential Man. 
The "sweetspot method" works like this: 
1. Choose frames roughly as wide as your face.

2. Choose frames roughly from the center of your eyebrows to 2/3rds down your nose.

According to Nguyen, This is the "sweet spot" in terms of sunlight protection and field of view (if you need prescription lenses.)

Frames in your sweet spot are the most flattering.They're not too small or too big, they're just right.
At the end of the day, it's important to find a pair that is not only comfortable, but also provides coverage and protection from the sun. Choose what makes you feel your best and don't worry about arbitray charts and graphs.