FALL/ WINTER 2018-2019 SUNGLASSES TRENDS
Via: Glowsly, By Emma Kansiz
What were the hottest fall/ winter 2018-2019 sunglasses trends from the runways? We saw a combination of traditional shapes, bold styles, & ultra-round eclectic styles.
Deep forest green was a favorite shade as were hot baby pinks and prismatic neon oranges. Lenses were dark, and designs were experimental. Retro goggle-style sunglasses graced the runways from Paris to Milan – a veritable mod-futuristic eyewear upgrade for the colder months.
Let's take a closer look at the fall 2018 sunglasses trends debuted on the runways this season.
#1. RETRO FUTURISTIC GOGGLES
Retro-futuristic goggle sunglasses are tongue in cheek and have an element of possessed self-assuredness. In short, you need to have a healthy level of confidence to wear the look well.
The retro-futuristic goggle theme was not tied to any one design – some of the most innovative and playful fall 2018 sunglasses resembled ski goggles, while some took more of an aquatic approach. Goggles have a kind of urbane techno-minimalism to them, making them the perfect accompaniment to sleek and industrial cold weather fashion.
#2. NON-TRADITIONAL SHADES
While every shape figured heavily on the runways for the fall/ winter 2018-2019 sunglasses trends, unexpected, non-traditional shapes were one of the notable stand-out silhouettes.
Non-traditional shapes don't necessarily have to veer on the visually dramatic side, however. Dries Van Noten's miniature specs were sleek and unexpected in their gentle contours, rimmed in a prismatic gold.
#3. FOREST GREEN
Deep, earthy forest green was featured all over the runways. The tone is an introspective and dimensional alternative to classic neutrals like black and brown.
It suits a range of skin tones and beautifully complements brown hair, in particular. There is a warmth that is inviting and appealing. Definitely a front-runner in the 2018 trends
#4. BLACK AND WHITE SUNGLASSES
One of the sexiest and most quietly provocative styles was the black and white goggles. They were a futuristic spin on cold weather style.
Versace's futuristic black and white sunglasses would be fit for a dramatic, glamorously tragic leading lady. MSGM's robotic sunglasses brought the timeless yin-yang color combo into the future.
#5. TRANSLUCENT LENSES
Platic-esque lenses make a huge fall/ winter 2018-2019 sunglasses trend. The style has a too cool vibe – a kind of assertive and radical self-confidence. The energy of the look suited the mod and futuristic meta-mood of the season.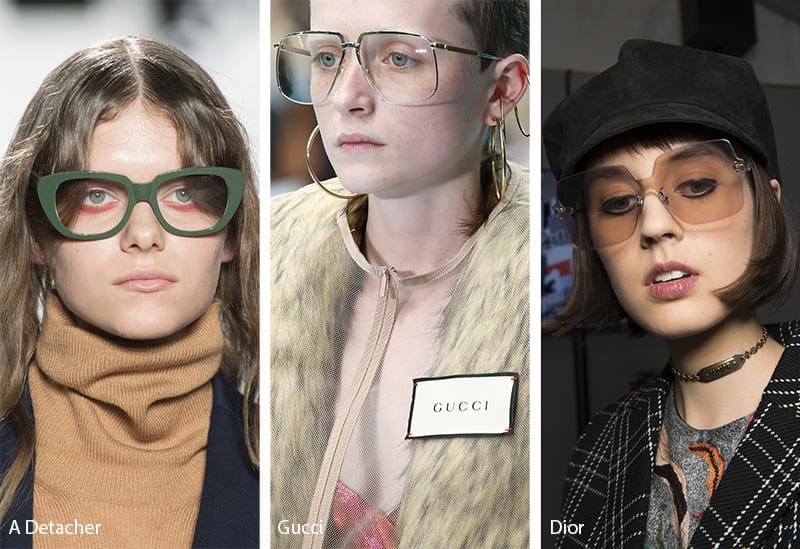 #6. BLINGED-OUT SHADES
There was no shortage of bling, rhinestones, and sparkle on the runways for those so inclined. For women seeking out heady opulence for the fall season, this fall 2018 sunglasses trend will be something of a siren song. Jewels and precious stones are perfect for the woman who veers toward the excesses of fashion.
Dolce & Gabbana really led the charge with the blingy ethos this season. They sent ridiculously ornate sunglasses down the runway in iterations almost too excessive to be wearable. However, that brazen indulgence was part of the appeal.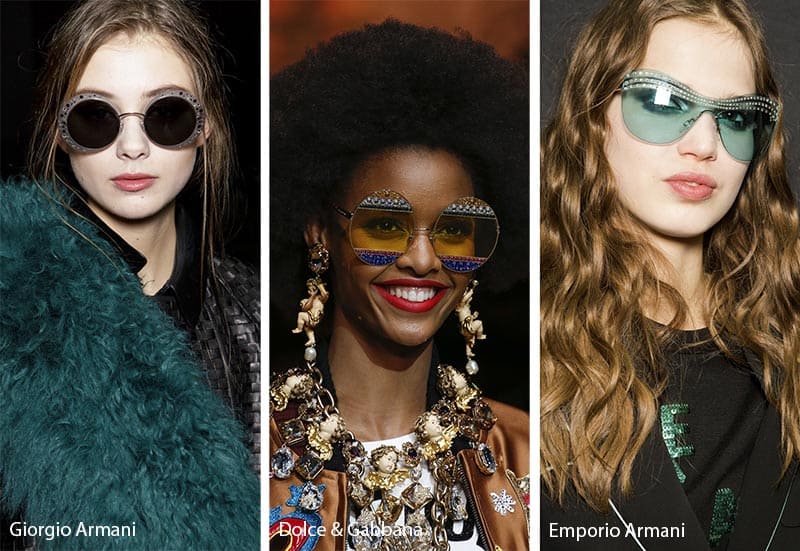 #7. OVERSIZED JET-SETTER CHIC
Many of the best fall 2018 sunglasses were not for the faint of heart. Oversized sunglasses evoke a powerful and fearless energy and help a woman channel her inner Hollywood starlet.
Oversized sunglasses fit in with the bigger-is-better ethos of the season and serve as a glamorous way of injecting an outfit with mystery and dynamism. We love how the oversized sunglasses trend melds perfectly with the luxe fur, deep Fall 2018 colors, and dangling earrings of the season.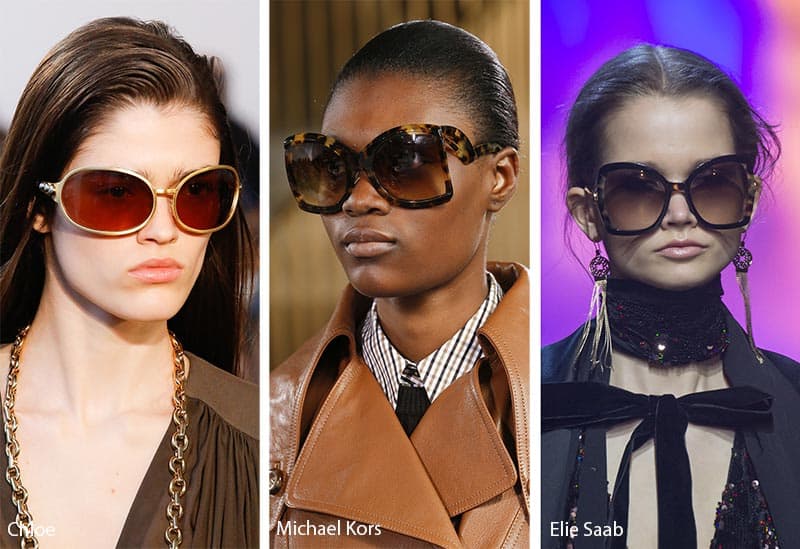 #8. BLACKOUT LENSES
Darkened lenses are alluring and create a sensation of mystery and intrigue. They cast shadows over the face and help cultivate an enigmatic impression. There is an elusively timeless appeal to a darkened lens when it is paired with pearl earrings and wavy hair for the cold weather months.
Blackout lenses are not married to any one style or form. They can be paired with a rainbow rim or contrasted with a delicate design.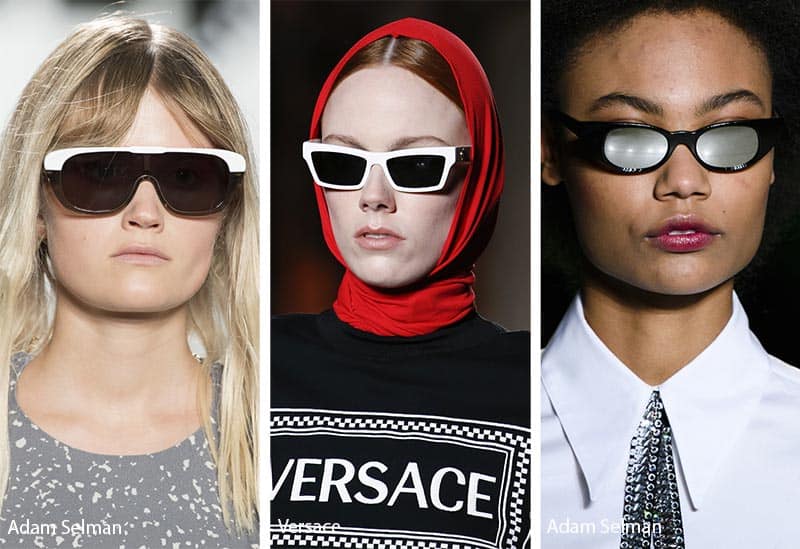 #9. APPEALINGLY BOXY SUNGLASSES
Boxy sunglasses were a hot trend for fall 2018 and winter 2019! A boxy, rectangular aesthetic lends the face a surprisingly delicate appearance, perhaps due to the contrast with the unexpected specs!
Boxy shapes are enigmatic and fearless. By offering the face a higher degree of coverage they help curate a mysterious vibe. This coverage has practical value, as well, and is effective for protecting the face from the elements of the colder months.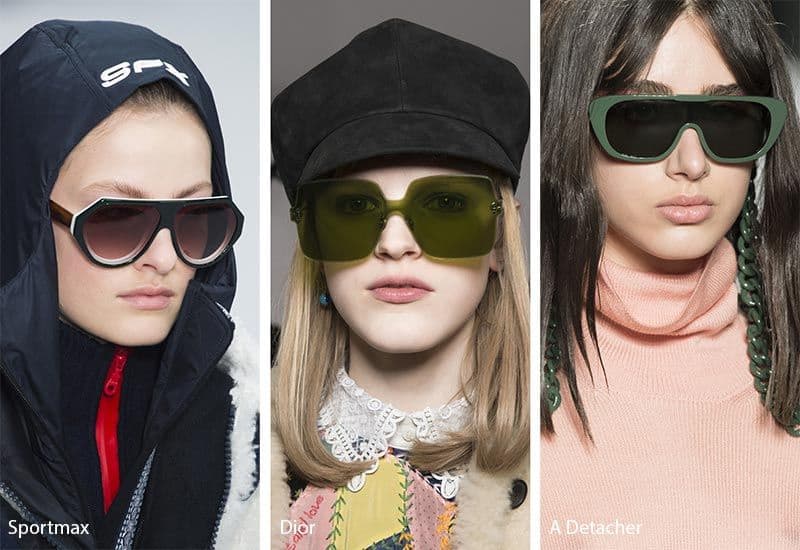 #10. ULTRA-ROUND SUNGLASSES
The ultra-round eyewear trend has been uber-popular in recent years. It has a hip, urbane appeal that belies a studied sartorial knowledge. Round sunglasses are unapologetic without being overtly aggressive. They pair well with all hairstyles and can add a hit of effortless luxury to any outfit.
We love how round sunglasses have an eclectic feel, as though they could be a found object in an antique furniture store. That second-hand, organically hip appeal is foundational to this fall 2018 eyewear trend.
#11. POINTED CAT EYES
Pointed cat eye sunglasses are assertive and distinct. They are not pretending to be anything other than what they are. This decisiveness is appealing for women who know who they are and know what they want.
The pointed design has a touch of studiousness to it, making it perfect for a return to school and cozy afternoons spent in cafes. The style is quietly sexy and lightly playful. We love how it infuses a style with a hit of retro intrigue without being overt or campy. A pair of cat eye sunglasses can impart a style with a coquettish appeal and help to create a symmetrical and harmonious facial balance.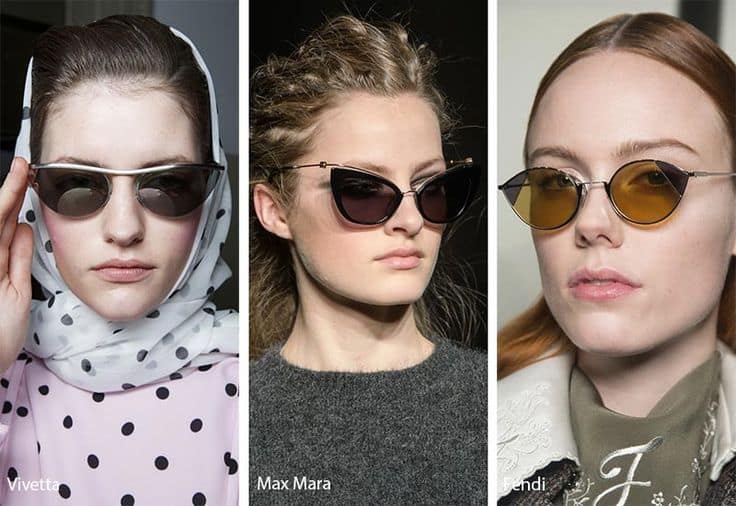 #12. SHADES OF GIRLISH PINK
Girlish baby pink was having a moment on the runways this season. The color graced any number of Fall 2018 shoes and accessories, and it wasn't shy about taking over the traditional world of eyewear for fall 2018.
Pink infuses an outfit with a lush and carefree verve and can serve as an unexpected dose of joie de vivre to a black and grey look. The pink that swept the runway for fall 2018 and winter 2019 was retro in its mood and mod in its silhouette.
#13. THICK-RIMMED AND METAL-TOPPED AVIATORS
Aviators have always had a jet-set, paparazzi-avoiding appeal. It doesn't hurt that the bug eye shape is intoxicatingly flattering and poised. This season, however, the magnetic pull of the aviator shape wasn't enough for designers. They needed to incorporate a little something extra into the look.
#14. TORTOISESHELL SUNGLASSES
These fall 2018 sunglasses reflect the light delicately and have an appealingly marble-esque appearance. The tortoiseshell rim is polished and elegant with a jet-setting, casually glamorous energy.
Michael Kors sent out lust-worthy oversized shades in the material. Tortoiseshell was perhaps the foundation of Sportmax's fall 2018 collection, proving the material could complement any design or shape.
#15. ORANGE SHADES
One color that was getting heavy screen time this season? Orange. Traditionally, when we think of orange we think of something juvenile or unapproachable. Designers have been working overtime in recent seasons to disprove this assumption and demonstrate that orange is an immensely wearable, flattering, and practical color.
Tones of mustard, terra cotta, and dusty tangerine prove that orange has a grown-up appeal. The magic of orange is that it still retains an unexpected feel without going overboard or being brash. Nothing is more current than a sleek pair of orange-rimmed sunglasses paired with a traditional fall uniform of a black coat and dark denim.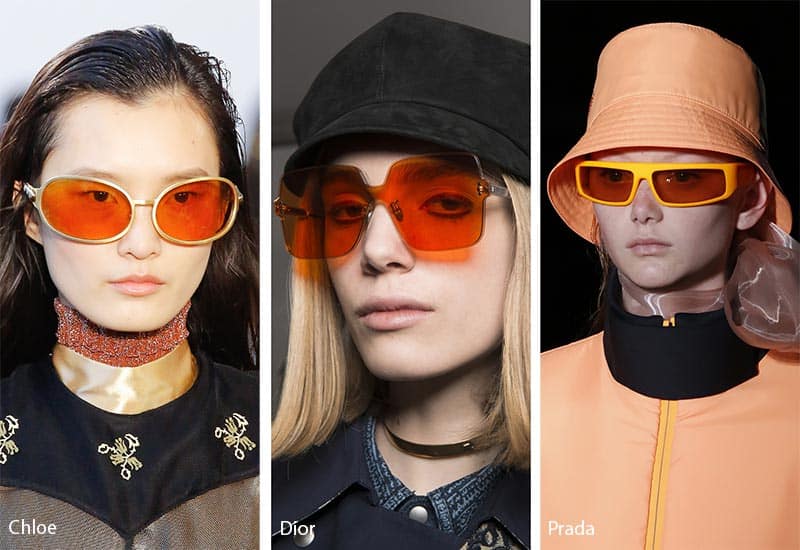 #16. COLORED LENSES
If blackout lenses aren't your thing, then why not experiment with one of the vibrant, whimsical, and fearless colored lenses of the season? We love colored lenses because they run the spectrum from opaque and distinct to translucent and barely perceptible. You can choose any tone from a spectrum of rainbow shades and then make it your own depending on how much color you're comfortable with.
#17. MOD FUTURISM
A mod futuristic mood swept the runways during the Fashion Weeks for the fall/ winter 2018-2019 sunglasses trends (and not only). Think of campy, late 1960s renderings of the future, and what you get closely resembles the offerings we saw for fall and winter!
A mod futuristic style is bold and stark in its sleek lines and brazen silhouette. We loved how the ethos of the trend encapsulated a lot of the mini-movements of the season, like the move to colored lenses and unusual shapes.
A mod-futurist style infuses your look with an intelligent playfulness. The reference to the past and the Technicolor wonders of post-war futurism is a cult way of referencing some of the modern cultures' most important outputs.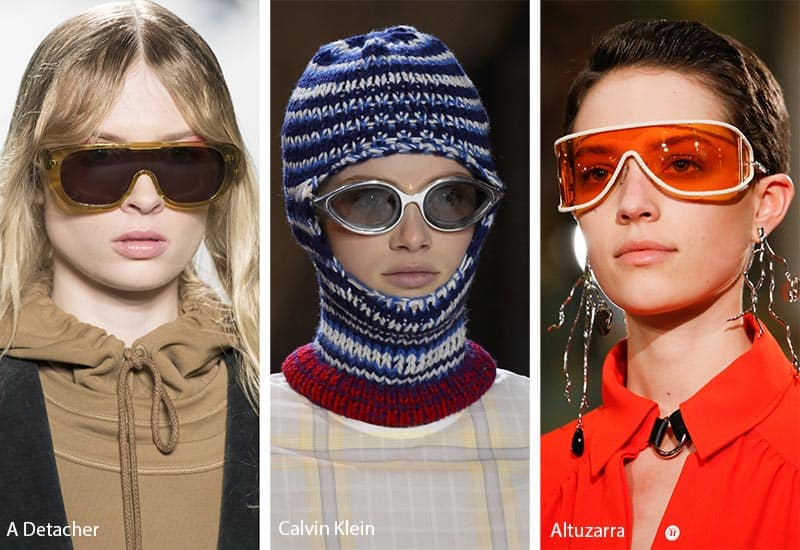 #18. SEXY LIBRARIAN EYEGLASSES
A trend similar in sensibility to the cat eye trend was the move toward a sexy librarian aesthetic. This is an appropriate antidote for women who want to veer away from the mod movement of the season and adopt something a bit more traditional.
And the best part of this fall 2018 eyewear trend? It proves that traditionally does not equate to dull or tired. Librarian-style glasses flatter the face delicately and intrigue without overpowering the look.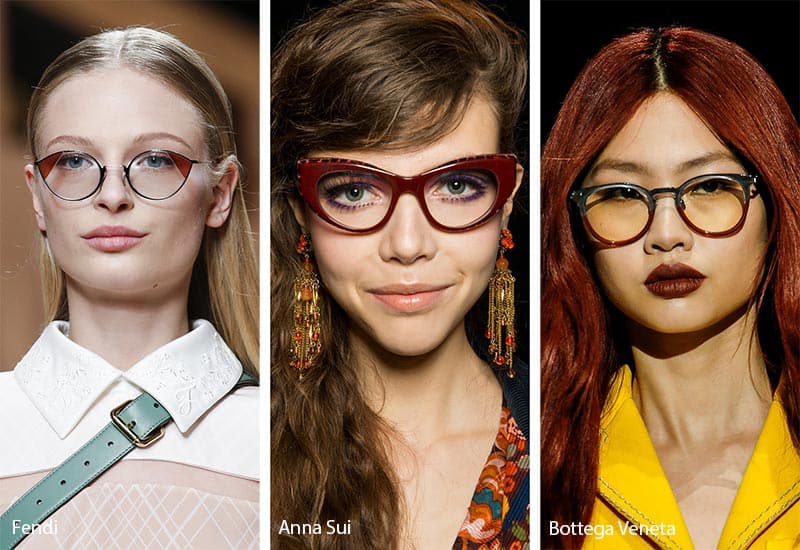 Photos via Vogue, Livingly